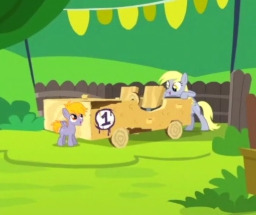 Dreams. They are fragile like a bubble.
Crackle Pop knows this very well. He knows it since he has discovered his special talent and earned his cutie mark. He knows this, because his special talent is to destroy dreams. Not the dreams that are only there at night. Manipulating those kind of dreams is Princess Luna's domain.
No, Crackle Pop was good at destroying the ambitions of ponies. What such a special talent should be good for? Crackle Pop asks himself this question too. He doesn't know the answer, all he knows is he can.
Sometimes it was a good thing. Sometimes, there was a pony will ill intentions, dreams of revenge, perhaps. Then he was the pony for the job.
In other cases, though, his special talent destroyed the dreams of ponies who meant something to him, good dreams that didn't create any harm.
Ponies refer to their special talents as their destinies, but for Crackle Pop, his special talent is a dark and cruel fate. It had hurt his friends, his teachers and his neighbors. It had never hurt his family, though.
This changes on the day fate forces him to ruin the longtime dream of the kindest pony he knows and the pony that means the most to him.....
Takes place before, during and after the events seen in "The Cart Before the Ponies".
Chapters (4)