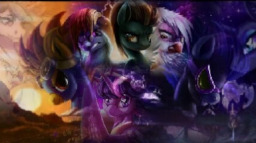 Source
*Sets during Season 5*
It's been months since the Equestrian Games, due the long absence of any Internationale competitions Princess Celestia sets for a new kind of tournament that's never been made before in Equestria.
The first Worldwide Equestrian Flying Marathon will be realized in the matter of a couple of weeks.
Seeing such an opportunity to make her name in story, a certain blue pegasus will do anything she can to win the marathon. There's only one problem.
She needs a team.
Chapters (21)