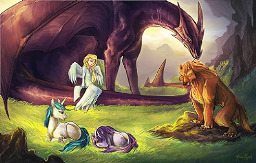 Fero, Sam, and Amber are between a rock and certain death. But when their only hope for escape from an impossible situation lands them in a new world, the trio must discover how to get back home to the friends they left behind. But do the ends justify the means?
~~~~~
Special thanks to ChaosLavaWolf from DA for the fantastic cover art!
Also - This is my first attempt at writing, so please criticize and comment freely!
Chapters (4)