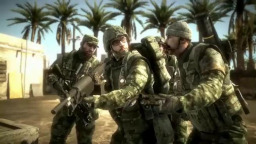 When the merry bunch of misfits from B-Company get transported to Equestria, what's the first question that comes to mind? What happened to them? Where are they? What will they do? What will happen to them? For them, none of these questions will be their first. Instead, their first question will be: Where did Marlowe go?
This story takes place immediately after the end of Battlefield: Bad Company 2, and for those of you who have not played the game, the prologue has a basic description of the characters and the story behind the aforementioned game.
PS: The tagged characters may not be all prominent ones, but they all represent who each of the squad would most resemble in Equestria.
Chapters (2)