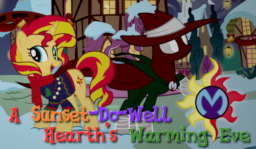 Source
This story is a sequel to Sunset Shimmer: The Mysterious Mare-Do-Well
---
It is Hearth's Warming Eve in Ponyville, and the town is celebrating. Sunset Shimmer is at a party with her friends when she spots a suspicious figure leaping across the rooftops of Ponyville. Donning her Mare-Do-Well costume, she goes out to investigate, but not before Rarity offers to give the heroine a festive makeover for the occasion.
A one-shot companion story to "Sunset Shimmer: The Mysterious Mare-Do-Well." Reading the original story can give insight as to how Sunset arrived in Ponyville and became the Mysterious Mare-Do-Well; however, since this one-shot doesn't contain spoilers for the main plotline, it is not required.
Special thanks to my proofreader, professorsawyer!
Chapters (1)