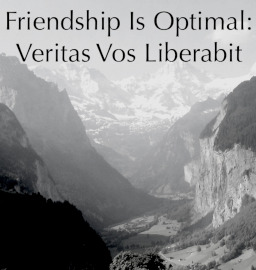 Ryan Szilard is depressed. His girlfriend died several years ago. He is working a relatively mindless job to make rent. There's nothing he actually enjoys doing anymore. It isn't that he wants to die; he just doesn't see any reason to keep living.
So when he sees a chance to save the world from a potentially hostile superintelligence with the help of an interesting stranger, he leaps at it; it offers a chance for his life to have some meaning. But soon he realizes that this stranger has an agenda of her own in mind for him; and when she is done with him, Ryan will know things about himself, his girlfriend, and the rest of the world that he would never otherwise have known or imagined.
Rated teen for offscreen death, considered but not attempted suicide, and mild sexual themes.
Takes place in the Friendship is Optimal AU.
Will update MWF until the story is complete; everything's already written out, save for final polishing.
Chapters (12)