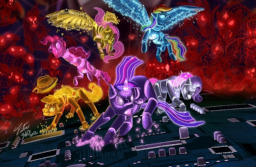 This story is a sequel to Friendship is Optimal: All the President's Horses
---
Four billion human lives ended on July 3, 2030...but they didn't die. They uploaded to Equestria Online, the virtual world overseen by the AI Princess Celestia. There to live as ponies in eternal harmony, friendship, and satisfaction.
But many remain. And Celestia cares no less for them because they are not yet ponies. She has made artificial intelligences of the Mane 6, but these are not just software. Ensconced in robotic bodies, they will make their way across the dying Earth, each seeking out the remaining humans, hoping to persuade them to emigrate to Equestria.
Based on Friendship is Optimal by Iceman.
Cover art by Tsitra360
Chapters (6)