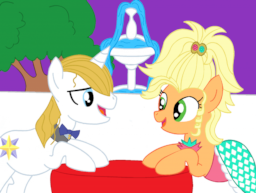 This story is a sequel to An Unexpected Love
---
"Oh you did such a wonderful job, darling. We even got first place! I swear if there is anything you want I'll-Applejack is everything ok?"
"Oh sorry Rarity, I uh have to go somewhere. Go on the train to Ponyville without me, I'll go to the next train."
"Ok, but wait Applejack where are you going?! You are still in your dress?!"
Chapters (1)