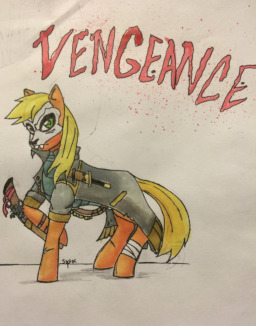 A terrible tragedy has befallen Ponyville and its Applefarm. After an attack on the yearly Apple Clan Reunion that leaves the entire clan slain and Apple Bloom in the hospital subject to a coma, the Elements and the Crusaders are busy mourning the loss of not only Applejack, but the Apple Clan while awaiting Apple Bloom to recover.
Meanwhile, Applejack, who was thought to be dead. Has been kept hidden from prying eyes under the watchful eye of Zecora for one whole year, now Applejack is well and awake from her slumber...
And she demands Vengeance against those who wronged her...
---
Written by: Dustchu
Cover Art by: Sipioc
My Little Pony is the property of those people who own the franchise and shit
This is a crossover, obviously.

care to guess which one?
Enjoy!
Chapters (5)