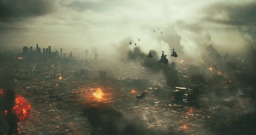 The unthinkable happens in the big city; millions are turned into ravenous monsters and flood the streets, devouring all in their path. Despite their advanced technology, the military can't stop them and survivors struggle with making it out alive.
Rainbow Dash is one of these survivors, and it is up to her and her ragtag group to try and turn back the tide of war.
---
Thanks to Rene9adeKni9ht for proofreading this sucker.
Chapters (3)