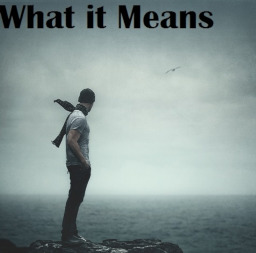 His name is Dustin, but he tends to go by either Dee or Dustchu. He's a somewhat regular guy, loves to write fanfiction and daydream constantly instead of actually doing anything worthwhile with his life. But there comes a day in everyone's life that changes everything. Maybe it's meeting the love of your life, getting that job promotion you wanted so badly, or actually managing to go to another country and experience what little life has to offer you.
For our hero, Dee, it's being torn from his own world somehow and thrown into a world filled with magic, fantasy, and fuckin' rainbows in every direction. It seems like a world that is too good to be true, a world he had loved for five, almost six years.
But if he's learned anything by now, it's that beneath all of the glamor and sunshine... there's a whole heaping mess of darkness. Our hero's new life in this world isn't always going to be sunshine and rainbows. But, before he gets into the nitty gritty of Equestria proper, he decides to go on the adventure of a lifetime! Instead of... ya know, going right there lickity split and shits. Follow Dee on his adventure throughout the vast world of Equus, as he tries to survive the fantasy world where darkness lurks around every corner just waiting to capture him in its icy cold talons.
---
Note: This story is a self-insert and it is written entirely for fun. And if you call the MC a Mary Sue, well I'll just take that as a compliment and assume you're telling me I'm perfect

Enjoy friends!
---
Othernote: Coverart may change when something better is obtained.
---
Hit the Front Page 7/8/2017
---
Pre-readers:
Previous:
thattardisdude
WingCMDRNimbus
Chapters (9)