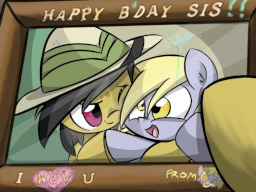 It's Hearth's Warming Eve, the time for spending time with family, singing songs, loving one another, and maybe even giving gifts. For one pony who's returned to Ponyville after so long... she'll have to do more then sing a heartfelt song if she wants to spend one night with a sister she had long abandoned...
---
A short fic for the holidays.
Big thanks to Not Enough Coffee for editing this.
Also, to clarify, this has nothing in relation to Ponky's Story, this is just a funny coincidence, hehe.
Chapters (1)