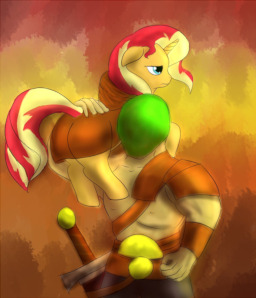 Equestria in a "typical" fantasy setting.
"You" have a whole lot of work to do. Many ponies to meet, monsters to fight and darkness to thwart. You may not be the typical knight in shining armour but your worldly charm and strong sword-arm will surely win the day.
Story focuses on the quest of Anon and Sunset Shimmer. Other ponies will play significant roles later.
Many long chapters are coming.
Ponies are ponies, Anon is human, other fantasy creatures are... well, fantasy creatures.
Cover art by the mighty Thorheim
Chapters (3)