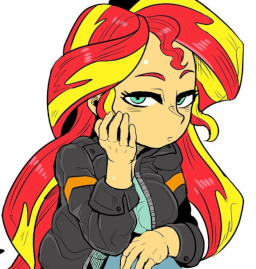 Sunset Shimmer, after her fall, is skipping class. Ignoring and being ignored by everyone. Attention comes from the most unlikely of places and perhaps an unlikely friendship is formed.
--
Written as a little love-song to my way, way overkill Teenset Shimmer and Teenlight Sparkle "series".
These are events that happens before "Teenset Shimmer Gets Wasted In Her Room While Listening To Nirvana" So I suppose it is some kind of prequel.
Started out as a bit of feel-good stoner nonsense, mercilessly thrusting my OC in everyone's face. Turned out a bit deeper, nature-romantic, still with a flair for the characters.
Contains light drug use.
Chapters (2)