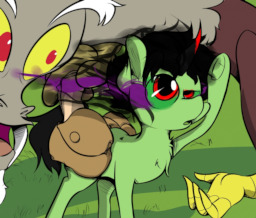 Wanting to impress his best friend and bolster his own reputation. Discord takes a human from earth and changes him into a colt. But not just any human, a human who knows about the show itself. Thus begins a symbiotic relationship where Anon gets to experience life in Equestria as a young child while Discord can use him for his own plans. Of course, the information of Anon's origins are to remain a secret. And this of course, along with Anon being quite the manchild, creates all sorts of hi-jinks for both him and those around him. Though, considering his adoptive father is Discord. Chaos is all part of the course.
The story is mostly slice of life. Especially at the beginning. But as it goes on, things become more chaotic and life tumbles down into chaos for our good Anon. Everything from dealing with the queen of the changelings to even getting his own chance at soviet Glimmer. All that and more in this story.
This is a reformatted version (reformatted by ShobieShy) of the greentexted "Dadonequus Discord" written during mid season 5 by myself.
Cover Art by "Bunny". made specifically for the story
https://pastebin.com/u/Erf1111 link to the original version
Chapters (327)