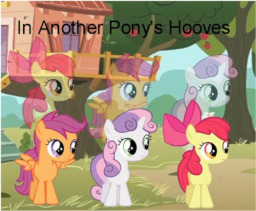 The cutie mark crusaders find a magic artifact that makes them live a day in each of their other friends bodies.
The crusaders then decide to have fun pretending to be each other, after all how much trouble can three best friends get into pretending to be each other?
Only problem is Scootaloo has secrets. Secrets she dares not share even with her best friends.
Tagging note: I don't consider this a pure adventure story as there are two distinct chains of events unfolding in this story. one is an adventure story the other is better described as a slice of life story. So fair warning, don't be surprised by the rather long interruptions to the adventure story stuff.
Chapters (6)