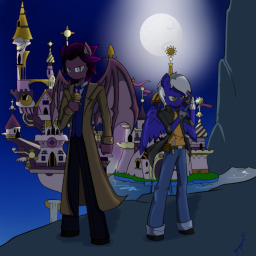 Source
This story is a sequel to The Package: Hive and Seek
---
Other Editions of "The Package":
Hive and Seek (No. 1)
It's that time again! Lunar Republic Extremists have taken over Canterlot Castle and even managed to take the residents, Alicorns included, as hostages! Being in the area and with nothing better to do, Silver Sea gallops back into action. With the unwanted aid of Button Mash, can our hero free Equestria's Royalty? Hell Fucking Yeah! Good things come in small packages.
Image drawn by TheYoungReaper on DA (Commissioned). Click image for source.
Disclaimer: Any Political, Prejudiced or Amoral views voiced in this fiction do NOT reflect my own, nor the creators of the OCs involved. I can't express this enough people. Any hate for any characters should not carry with the OCs elsewhere in the brony fandom, as I have characterised them specifically to fit roles for this story.
Chapters (1)