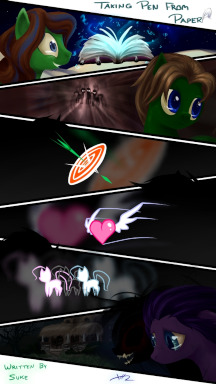 Source
The Writer is an illustrious title:
An entity who holds power over everything he writes, it is the Writer's job to record and weave the story of life. Unfortunately the Writer is not doing this job properly and, as a consequence, the Multiverse is losing its fundamental plot cohesion.
Now It falls to others to right this issue before all is lost; to save everything Cliff Jumper must must triumph against the musing of an egotistical Writer's mind.
---
This story is a chronological sequel to It always begins with a Book, it is NOT required to undertstand this story.
Cover Art by Ayemel. Will be altered in time with the story, as more characters are introduced.
Chapters (8)