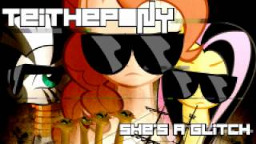 Inspired by the track 'She's a Glitch' by TeiThePony on Youtube, which is a remix of 'She's a Pony' by General Mumble (Poowis), which is in turn a cover of 'She's a Pirate'.
Twilight visits Sugar Cube Corner to make an order, but gets more than she bargained for when Pinkie Pie bursts out of the basement and is acting very strange... Well, stranger than usual. Not only that, but the Cakes are hiding something. What's with Carrot's Labcoat? What's with the lack of subtlety in Pinkie defiance of physics? And who does Soarin really love?
My first shot at a One-Shot... hehe. In preparation for the epic one. Also, one of my pre-readers suggested the dark tag due to... well, you'll see. Tell me if you think otherwise.
Chapters (1)