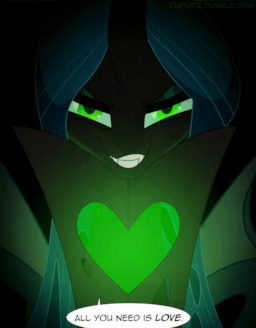 Your body is alien. Your instincts are alien. Your surroundings are dark, and damp. From murderous siblings to mysterious rituals of love; the life of a newly hatched changeling queen is confusing and dangerous. Chrysalis does not even bother to tell you exactly what you are before she sends you into the world. Thrust directly into the fire; you must learn the way mother did, or not at all.
Your instincts guide the way, but sometimes they are as much obstacles as anything else. Time ticks by, and you begin to wonder just who you really are. Are you Mint Leaf; adopted daughter of Lyra and Bon Bon? Or are you Chrysalis's spawn; heir to the changeling throne and yet to earn her name? To make matters even more confusing; old memories from a life before this one linger in the back of your head. They refuse to be forgotten.
You mustn't be caught. They will kill you if you are caught.
Mother said so.
Chapters (1)