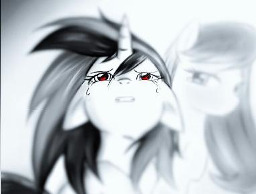 This story is a sequel to The Best Songs Come From the Soul
---
Two months ago, the world was rocked by one of the strangest stories heard in a thousand years. No demi-gods were involved, no evil creatures from enchanted forests.
No, it was much more invasive, subversive than that. Nopony suspected anything til too late, and then? Then Ponyville was rocked by an explosion.
Ponies the world had forgotten had gathered that night to die, victims of clockworks from another time, mourning the loss of themselves. That night, five innocent mares nearly lost their lives. And from the morning light, Vinyl Scratch was never seen again.
To face that which she destroyed, she must fight powers far beyond her knowledge and uncover truths never seen by sane eyes. This is her story, and that of the Taken.
(It should be noted that while this is a sequel to another story of mine, reading that is not at all required to enjoy this one. In fact, it might even be better. I made sure of that from the beginning)
Chapters (6)