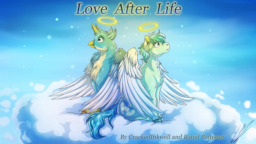 Warning: The following story you are about to read contains mentions of violence, death, the afterlife, F/M, M/M, sex (don't panic, all the characters that do so will be 18, consensual and mentioned breifly), talk of sex, suicide, and figuring what to do with eternity. If you are uncomfortable with one or many of these things, you know where the exit button is. 
---
Neither Gallus nor Sandbar expected to die at the age of 18 and 17, but at least it was dying while saving the world. With their lives over, all that they expected was a simple slip into darkness for eternity. Never did they imagine that what awaited them was paradise for their deeds and actions.
Of course, one doesn't just accept or come to terms with their sudden death. Especially at such a young age. There are regrets, questions, and discoveries about oneself that come with the prospect of being welcomed into Heaven. Some of these experiences can be welcoming and others can be sorrowful moments in an otherwise bright and happy world.
Yet, perhaps the biggest experience is one that will see the two bond past the flames of friendship and into the waters of love. After all, everything is possible in the afterlife. 
---
Co-Written by: Rated Ponystar
Edited by: TheAncientPolitzanian and Babroniedad
Cover Art by: LupiArts
Chapters (1)