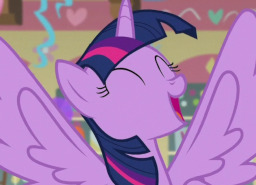 Princess Twilight Sparkle decided to settle down by asking her true love to marry her and "he" accepted her proposal. It's a great moment in the young Alicorn's life, and her friends are elated at their friend's news. Except for one of them.
Discord, the Lord of Chaos, can't believe what's happening, and tries to talk some sense into the ponies. Too bad nopony will listen to him.
Why is Discord trying to talk Twilight out of marrying her true love?
Her "true love" is a book! Yes, B-O-O-K, book!
This story takes place late in season 5.
Last but not least, special thanks to flutterJackdash for helping me edit this story.
EDIT: Made the featured list on 12/12/19!!
Now has a video recording on youtube, courtesy of StaraightToThePointStudio and I an so honored!
https://www.youtube.com/watch?v=uDkAuCAQhXM&feature=youtu.be
Chapters (1)