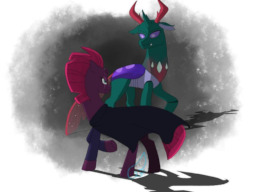 Source
This story is a sequel to A Fading Tradition
---
Despite all of Pharynx's rage, the grouchy lovebug still is mentally trapped in a cage.
A struggle between acceptance, grief and dismissive tendencies is all Pharynx has left when it comes to the ever-changing customs of his peoples. A rebellion is the last thing in his mind; fight his own brother? Blasphemic, the entire recorded Changeling history (barring Chrysalis) has never seen such civil conflict between one another. It's always been united under one banner, one Queen.
But now, Pharynx is left a bitter shell of what his usually grouchy shell used to be. It seemed that the Ponykind is left dawdling with teachings of friendship and peace, and it's eating his people with them. Assimilating. Conquering.
Until Her.
What's the T-rating for? I don't really know! Maybe for some language? Or a little dash of violence? Sure, let's try it out.
Chapters (2)