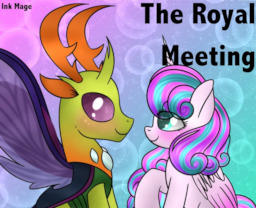 As the leader of the Changelings, it's important to Thorax that he has allies within Equestria.
And which better place than the Crystal Empire itself? Where he was first accepted and allowed to roam freely within the land.
All he'd like is for his subjects to be able to rely on the Crystal Empire for friendship and love.
Unfortunately for him, his meeting with Princess Flurry Heart on the matter quickly spins into something a lot less professional then he had initially expected.
---
Author Notes:
Taken place several years after the current show-time. When Princess Flurry Heart is old enough to handle the bigger meetings regarding the Empire.
Please disregard obvious disbelief suspensions when reading. This story was not written from the show's point of view, meaning there will be minor plot adjustments made for the purpose of the storyline.
---
Cover art by NorthernLights8.
Chapters (1)