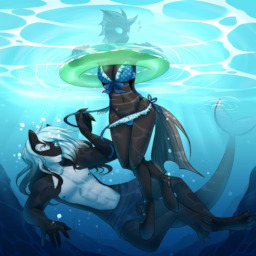 Source
The art for this fic was used with permission from, and created with unequivocally EXCEPTIONAL SKILL, by the one and only AskBubbleLee on Deviantart. Look upon the works of this talented artist and rejoice, ye pitiful mortals!
---
Ebonfallow is a meek changeling who, for reasons beyond her control, was born with the inability to change form. Blackfish is an orca of adventurous qualities both admirable and vexatious, and pines for something—or someone—interesting enough to satisfy an unknown thirst that plagues him so.
When the former leaves her hive for a coastal pony community in disgrace and the latter decided to explore the very same location she dwells by virtue of his unquenchable curiosity, their paths soon cross upon one calm, warm summer day.
And, as both soon find out, their fates may be destined to intersect in more ways than simply a single, freak encounter...
(Btw, the rating will probably eventually change, as will certain, *nudge, nudge,* tags.)
Chapters (2)