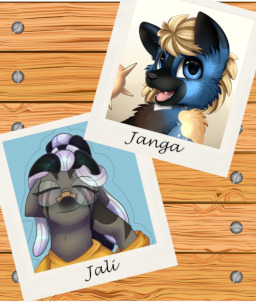 This story is a sequel to A Dog and Zebra Show
---
Janga has holed himself up in his workshop for far too long, so Jali and friends take matters into their own hooves to address something long overdue.
---
With so much world building and plotting put into the expansive setting of A Dog and Zebra Show, it would be a shame to waste these characters, so here is a short vignette in their lives.
Reading A Dog and Zebra Show is not required, but this does have a few spoilers for planned events.
---
Janga by pridark :: Jali by Hedgehog | Polaroid Film Frame by Annamae :: Background from Freedesign file
Chapters (1)