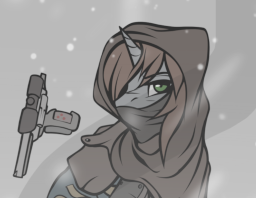 Source
This story is a sequel to Fallout: Equestria - Fall of a Hero
---
Saying goes that in the Equestrian Wasteland, no hero lives forever.
History has shown time and time again that even the most promising of uprising heroes may fall to the wasteland. Temptation is lurking left and right, and once one has given in; has embraced the insanity of the Equestrian Wasteland, it's very hard, maybe even impossible, to get back on the path of light.
This is the story of how Equestria's favorite and most well-known heroine fell to the wasteland - and of what happened in the years after.
---
Sequel/Epilogue to Fall of a Hero.
---
Credit for the cover goes to Whitepone. Props to Dustchu for suggesting it!
Chapters (1)