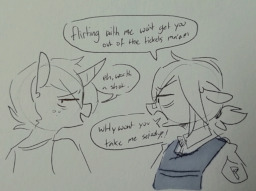 November Rain, school-dropout, former drug-addict, and ex-soldier, has been through her fair share of hardships in her life, and is now making ends meet working as a mechanic in downtown Fillydelphia.
However, even now her daily life still is far from a walk in the park, and even on a relaxed Friday afternoon like this one, there still are a few hurdles to overcome.
---
A brief 'character introduction' one-shot written to give November Rain some more attention. She and Just Cause belong to me; Skip Blade belongs to REDXBACON, who also drew the cover!
Chapters (1)