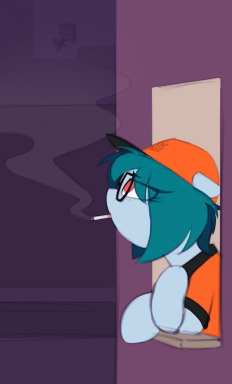 There comes a point in all our lives where we just need someone to reach out to us; to lend us a hand to get back on track, and to save us from the dark hole we're in.
Delta Vee has just reached that point, and as fate wills, she is about to run into one of the few ponies that genuinely can and want to help her.
The only question is, will she get herself to accept his help?
---
---
This story is directly based on the events in Anywhere But Here. Reading it first is advised, but not required.
---
Like Family Photo, Anywhere But Here, Black Honey and Fast Car, this story is entirely based on Shinodage's blog telling the story of Delta Vee and her family. As always, all credit for the characters goes to Shino!
Also, allow me to mention real quick that Shino went out of his way to draw the awesome cover art for this story, so go ahead and send him some love!
---
Special thanks to xRei, Pahnazd, and NumberEight for helping with the editing!
---
Namesake song. You know the drill.
Chapters (1)