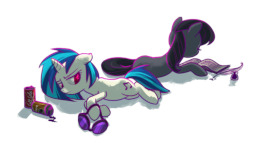 Writers, Artists, Musicians; we all fear it. We dread the words, the single word that has doomed thousands of careers. That point where a creative genius is just stuck and can't move. "Block." It's been a good run, but Vinyl just doesn't have it in her anymore. For the longest time, she has been struggling to produce anything of value. Is this it then? Is this the end of DJ-PON3?
Not if Octavia has anything to say about it. Brace yourself, ponies. It's going to be one wild ride.
Thanks to John Perry and Nitrox for editing.
Chapters (1)