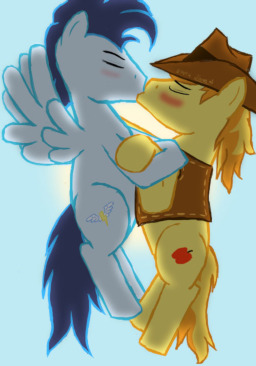 Source
Soarin' is an accomplished Wonderbolt, but lately he's been making too many simple mistakes during practice. One day, he and Spitfire come to the conclusion that he needs a change of scenery. Through a brief negotiation with their manager, Soarin' is given a week's time to secure a future performance in Appleloosa. He accepts this task and flies to the new town.
However, there's more to Soarin's life than he's letting on. He's constantly battling his inner demons, all while trying to ignore the hounding media. He's kept himself in check, but his past is about to come forth once more, and in ways he isn't prepared for.
All because of a strange colt he met during a stop at a bar.
Chapters (6)