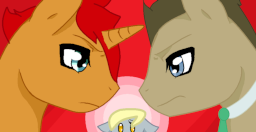 Source
Tick Tock ask the Doctor for romantic advice, triggering a rant from the Time Lord turned pony.
The Doctor shares the secrets of Time Lord Looms, his connection with his Granddaughter, and his point of view of his first human girlfriend... Rose.
---
My entry into the "Ponies with Pockets" shorts contest.
It may not have ranked in the top three, but the story was listed in the honorable mentions. Which, understandably, I'm very proud of.
Chapters (1)