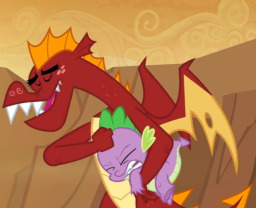 Source
Garble was orphaned at a young age. Although the dragons of his village helped him, where they could, he mostly raised himself. He had to learn to be tough, strong, and most importantly how to fend for himself.
Even with his life he couldn't help but have a fantasy about one day finding his parents lost egg and raising it himself. Too bad that egg turned out to be Spike.
After Kidnapping Spike and revealing his heritage, surely the little hatchling would never want to leave again. Who knows maybe Spike can teach his brother that it is okay to be soft. At least in some ways.
Warning
Spanking, Yaoi / Gay (Spike and Garble have a purely brotherly / parental relationship and although there are several same-sex relationships, romance is not the focus. This is a family focused fic), Dragon species and characters used from "How to Train Your Dragon" and other franchises (just so I can avoid creating a lot of original characters)
Chapters (12)