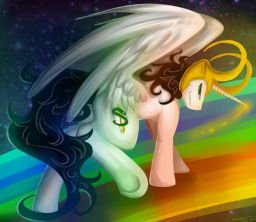 Source
Unofficial Sequel to "If Wishes Were Ponies".
https://www.fimfiction.net/story/406279/if-wishes-were-ponies
Official Sequel Up, by original Author.
"If Wishes Were Portals, Book 2".
https://www.fimfiction.net/story/484183/if-wishes-were-ponies-book-ii
I take some inspiration from:
"Magic School Days".
https://www.fimfiction.net/story/371039/magic-school-days
"Hazy Days and Magical Ways"
https://www.fimfiction.net/story/477026/hazy-days-and-magical-ways
Art found at:
https://www.deviantart.com/kayziomau/art/Upon-the-Bifrost-315566846
---
Through the blending of Science & Technology, The Great Sage Harry Potter, defeater of Voldemort and Master of Death, creates a next Gen portal. A device to visit any world, at any location, in the Multiverse. The Asgardians recognize the creation of a new bifrost as worthy of including Equus in interdimensional Politics.
The only problem is Odin expects not only the ponies, but all races of Equus, to bow to his law. Celestia isn't impressed, and continues exploring other dimensions despite Odin's warnings. Will they be able to come to a middle ground... or is Equus doomed to war with self proclaimed "gods".
Multi Xover.
Chapters (10)