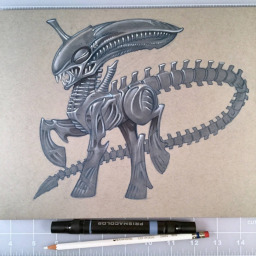 Source
Art Found Here:
https://www.deviantart.com/d-mac/art/H-R-Giger-s-My-Little-Pony-698038945
I didn't commission it, or draw it, just stumbled on it, and was told the site doesn't mind. So long as I give credit, and link the original.
---
Ponies value aliens. When they see an alien, they want to be able to point & say, "That's an Alien, will you be my friend!" So we need a unique Avatar, yet still pony. Thankfully there were more then 3 tribes in the fandom
Changelings, Kirin, Hippogriffs, Seaponies, Vulponies, Clockworks.
Aliens of all sorts, transformed into different pony tribes.
Chapters (1)