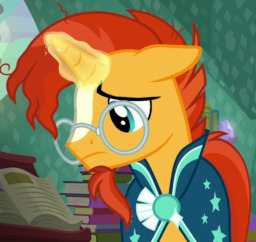 After years of being a failure, of watching his life spiral out of control, and of losing all hope of ever being happy with his life again, Sunburst comes to a decision. It's a decision that far too many ponies make in similar circumstances, but he's determined to go through with it all the same. Hopefully, Sunburst can realize the mistake he's making before it's too late.
A ponified telling of real events in my life. I decided to write this as a way to work through some of my own feelings and to possibly share some perspective on why a person might attempt to kill themselves, in light of certain recent events. Also to hopefully provide some perspective and warning for those who might be thinking of taking similar actions.
Warnings: Depictions of suicide attempts based on real events in the author's life, thoughts and idealizations of suicide by a suicidal pony, just a depressing topic all around.
IF YOU OR ANYONE YOU KNOW ARE HAVING THOUGHTS OF SUICIDE, PLEASE CALL THE SUICIDE PREVENTION HOTLINE AT THIS NUMBER: 800-273-8255, OR IN CANADA: 1.833.456.4566. TALK TO SOMEONE. GET HELP. YOU ARE NOT ALONE.
Chapters (1)