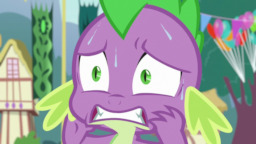 Spike has outgrown his youthful crush on Rarity, but now he finds himself desperate to win the heart of another mare closer to his own age: Sweetie Belle. Desperate to make an impression with her, he decides that he needs to get her the greatest, most perfect gift he possibly can. The only problem? He has no idea what that gift might be. Not wanting to let his friends know about his crush before he can give Sweetie her present, he wracks his brain to solve the puzzle of finding a perfect gift alone. Until one night, he finds help from an unexpected source.
Will he be able to find Sweetie's dream gift within his own?
Warnings: None. My annual winter E-rated fic. Gotta churn content out for the non-mature viewing fimfic users too, right?
Written for ScarletRibbon for Jinglemas 2022
Chapters (1)