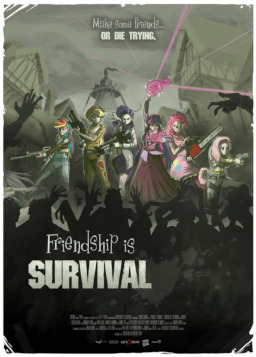 Source
*Special Thanks to The Artrix from Deviant Art for letting me use his image!*
My name's Matt. I live in a world full of zombies. All I have are my guns, knives, and a few of my closest friends. Things went alright, well, as alright as it can get in a zombie infested world. We had an established base, plenty of ammo, food and water. Plenty of My Little Pony: Friendship is Magic DVDs.
But what happens when this group stumbles upon the Mane 6 in this deadly world? How did they get here? How will they get back? How will they handle the carnage? How will they be kept safe? Will AJ kick a zombie in the face?
HUMANIZED PONIES. Warning: major violence and language. NO DAMN CLOP. Kissing will be the farthest I go. Slight shipping later on if the story is received well and I keep writing it.
Self insert, with friend insert. Motivated by number of zombie fics here. First ever fic, constructive criticism gladly accepted.
Chapters (28)