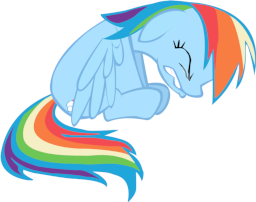 Source
Rainbow had a second chance at growing up, but she never thought that its darker side would come and find her, especially now that she had finally let go of the pain and got her life back on track.
Constructive Criticism is Appreciated.
[NOTE] I guess you could call this a sequel to My Little Dashie, since it is supposed to take place after the events that happened in it, and since it does reference it a lot.
Obviously, kudos to ROBCakeran53 for writing My Little Dashie. I cried
Chapters (1)