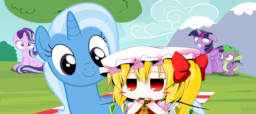 This story is a sequel to Chibi Flan's Foalsitter
---
Flan returns to Equestria. That's great!
She meets with a new pony. That's curious.
That pony is Trixie. That's interesting.
She doesn't bite her. That's nice of her.
Twilight will probably be salty. That's a fact.
Hey!

Oh and Starlight is over there doing... stuff. I'm not sure, but who cares?
---
Now edited by the cutest: Speckle :3
Chapters (8)