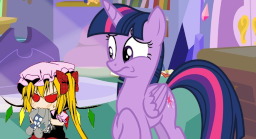 Flan became small again, that's cute.
She bites a lot, that's bad.
Remilia is on the end of it, that's painful.
She got an idea, that's good.
Give the ponies a chance to fix Flan's biting behavior, that's genius.
They succeding in their task? that's doubtful.
---
A spin off revolving in My Little Baker universe some time after the "battle."
A little idea I got after reading some stuff, so I thought why not? *CHOMP* AHH!!
Chapters (15)