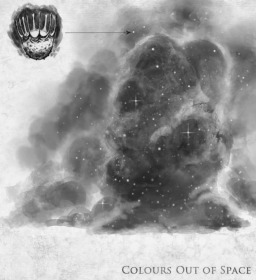 This story is a sequel to The Symphony of Canterlot
---
Edited by the brilliant Menace of the Mines!
That day half of the bearers of the Elements of Harmony had been out of town for more than two weeks dealing with a lynch mob that had formed in Appleoosa due to a stallion finding out that his wife to be was a changeling the whole time, and she had not told him about it. But that is another story for another time.
What were are talking about now is the incident of four Luna's Return, or as it was better known to the press at the time, and later the offices of the O.S.S -Occult. Science. Service.- as "The Cupcake Killings". It wasn't the worse I had seen, but it was certainly the first time I got to actually meet the Element Bearers. I consider that it's worth talking about, specially now that it's Nightmare Night.
This is how we brought an end to the 'She-Devil of Arkham'.
_____________________________________________________
Inspired by theCthulhu Mythos,Red HarvestandThe Dain Curse, and finallyThe Hellboy Universe.
Chapters (4)