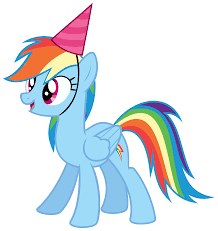 Happy Birthday to My Little Dashie's Rainbow Dash!
As a memento to My Little Dashie, I whipped up a short story on Dashie's 5th birthday. This day was never covered in the story, so it'll also help fill in the gap.
Enjoy.
Update September 5th, 2018: I realized recently that the main character in this story didn't add five years to her age until she had been with him for ten whole years. So, to be more chronologically correct, I've changed the title to "5th birthday" instead of "10th birthday". I also updated the wording within the story itself. I hope this doesn't cause too much confusion.
Chapters (1)