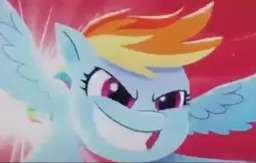 This story is a sequel to MLP Movie: Rainbow Dash Does Everything
---
It may have been many, many moons since Rainbow Dash graced the skies of Equestria, but in an alternate universe, she somehow defies the laws of getting canceled and does everything that needs to be done in the "My Little Pony: A New Generation" movie more or less all by her lonesome. Because, as was true with the last movie, we all know that she could if she had to...
CONTAINS SPOILERS FOR MY LITTLE PONY: A NEW GENERATION
Note: It's not required that you read this story's prequel to understand this one, but the views and attention will always be appreciated

Thank you for getting this story to the Popular List on October 4th, 2021!
Chapters (1)