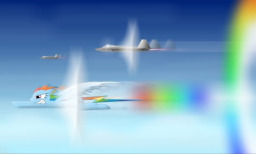 In the popular story, My Little Dashie, the main character decides to give Dashie's birthday present to her a little early after their fight over her true origin. The gift just so happens to be tickets to the 2025 Indy 500.
As I have been doing, this story serves as a means to help fill in all of the countless gaps in the original. As the title suggests, they take a trip to Indianapolis and experience one of the greatest spectacles in racing. (With Dashie in the clouds, of course)
Also, a huge thank you to Dreadnought for proofreading and helping this story become even better.
Thank you for getting this story to the popular list on March 30th, 2018

Chapters (1)