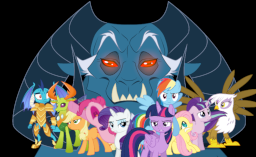 Equestria is enjoying a time of prosperity. Through the efforts of Twilight, Starlight, and all their friends, ponykind is now enjoying new relations with the Dragons, Changelings, and Griffons. But a new foe appears that will put these new friendships to the ultimate test.
Grogar, the Dark Lord of Tambelon.
Leading an army of Arimaspis and Trogals possessing advanced anti-magic technology, this ancient foe has set his sights on Equestria. And in order to stop him, our heroes must reach out to their new friends.
But Grogar will not let them do so easily...
Cover pic made by me with resources from Tara Jenkins, Vector Brony, and numerous others.
Chapters (1)