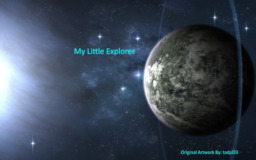 Source
This story is a sequel to My Little Engineer
---
After spending who knows how long in cryostasis on their trip to their new homeworld, Luna wakes from sleep with a bit of trouble. That's not the only trouble she's about to find, however, as she soon learns that not all of the Equestrians made it to Lux Aeterna; her fiance included.
Luna must now take a small group of volunteers to backtrack their journey across the stars in search of the missing pods, exploring entirely new worlds and civilizations in the progress. Who will the crew find, what will they discover?
This story is an archive of an RPG that I will be hosting with some friends on my Discord server, rewritten and formatted to comply with Fimfic's rules of submission. I need a few more players who'd be interested in playing a lead role in this story. If you're interested, please send me a PM so we can chat.
Current players/Co-writers:
Me!
Bulmuag
Scalor-Barracuda
ScootalooFTW
AlchemicalRainbow
Simple Things
[Open]
[Open]
Chapters (3)