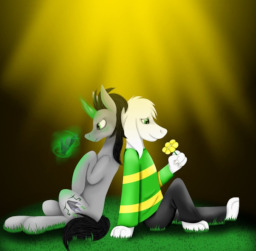 ---
This story is a prequel to Little ray of Sunshine
---
VERY heavy spoilers for Undertale
No, seriously.
You should play the game first then come back.
Okay? Okay.
Young Sombra fell into the dark bottomless hole, expecting to die from the impact. What actually happens is what he never expected. Sombra finds himself in a heart-warming home with a loving mother, father, and brother.
He starts to care for them, wanting to do what's best for not only them, but all monsters.
By destroying the ones who sent them down here in the first place. And he will do anything to complete his new goal.
---
A prequel story to Little ray of sunshine
Based on the PWNY stories from Tatsurou, check them out if you haven't.
Cover art made by Sakura
Chapters (3)