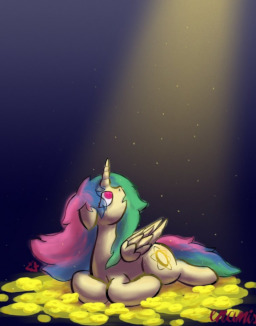 Heavy spoilers for Undertale
Once there were two races that ruled the land, ponies and monsters.
One day, a war broke out, killing thousands in the process.
The ponies had won, sending there enemies deep underground, and trapping them by using there magic to create 'The Barrier'
Years later, an alicorn foal with a sun for a cutie mark wakes up,
Only to find herself lost, not knowing who she was.
The Story begins.
So, this was inspired by many of tatsurous story's check them out out if you want to.
Re-edit: Seeing this cover art... FILLS ME WILL DETERMINATION
Also,
OH MY BUCKING GOD!

LOOK AT THAT BEEEAAAAUUUTIFUL COVER ART MADE BY enamis. I couldn't thank you enough for making such a fabulous cover art

I can't believe I was your inspiration (I felt so important) but that doesn't mean I left nightglimmer22 for trash, ooohhhh-nnnooooo, here's her cover art as well [img]http://s29.postimg.org/60p4zg793/image.jpg[/img]
I cannot thank you people enough

you fill me with Determination!
Chapters (52)