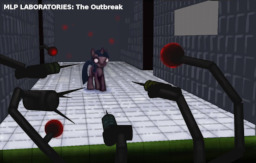 EDIT: I have deleted several chapters, because I realized they ventured too far into the subject of real world hardships and experiences I can never truly understand. If I have offended anyone, I apologize, and I promise to listen to any complaint related to tis.
-
Disclaimer: guys, this is a wild and bumpy ride, and if there was only one word that didn't apply here, it would be 'coherent'. I put things in there through random association, not logic.
-
Did they really think they lived in a magical cartoon world? Where they controllled the weather? Where they had created and maintained an advanced civilization all by themselves, despite the fact they didn't even have thumbs?
They did believe that. At least for a while.
But one by one, they are waking up to a much harsher, much more disturbing reality.
Pityful, spliced creatures, they will try to fight their way out of a nightmarish place ruled by cold and sadistic entities.
Then again, who is to say what is real and what isn't. Perhaps this is nothing but a nightmare. A very long, painful nightmare. Perhaps the truth is something different altogether. So many mysteries, so many paradoxes, so many horrors. Only one thing is sure.
Friendship is magic.
Chapters (17)